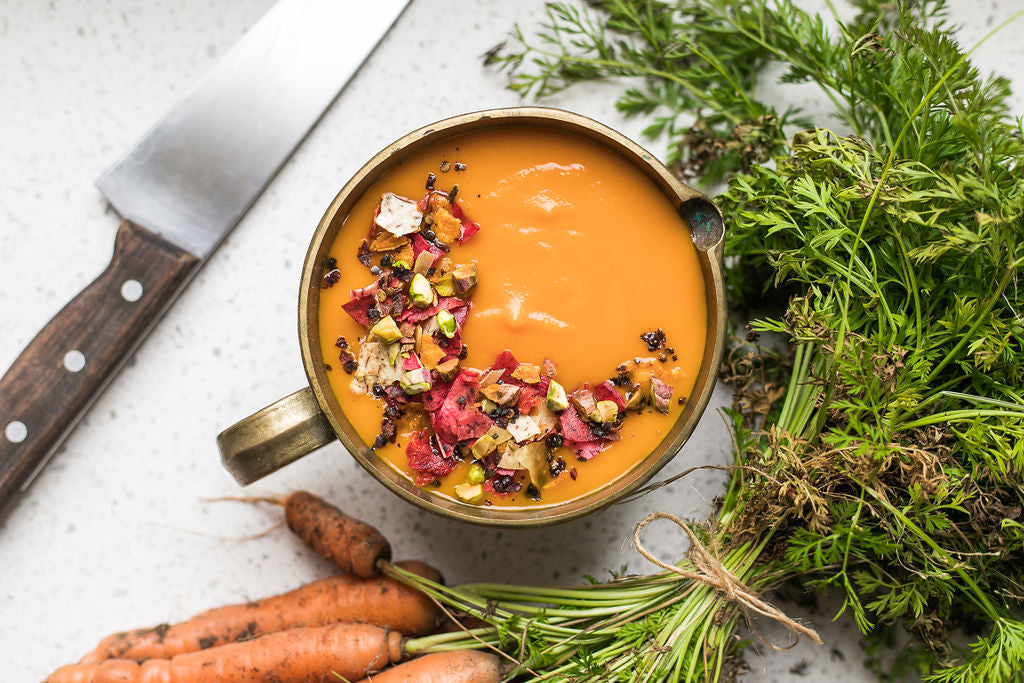 Honeyed Carrot-Ginger Soup
Have you ever met someone and you swear you've known them for forever? This happened when Paula and I spent an afternoon in her kitchen. I brought honey and she created magic.
She says "Health is more than just what you are eating. It is what you are thinking, feeling, and saying." So Paula created a healthy and delicious soup using our Turmeric + Ginger Honey Infusion as the inspiration.
Paula also notes "Nothing brings people together like good food. My fondest memories growing up are those from my mother's kitchen. Since childhood I've been obsessed with food, so naturally I studied Culinary Management in Toronto. "We're so thankful she did.  
Paula sourced her veg from Long Lane Farms located just in Calabogie. Long Lane Farms offer a CSA which means you get to enjoy a share of fresh, naturally grown produce grown on their farm.
Honeyed Carrot-Ginger Soup
Yield: 8-10 bowls (2.5 L) 
2 Tbsp coconut oil
2 medium onions, peeled and chopped
1 tsp sea salt
10 medium carrots, peeled and chopped
1 small sweet potato, peeled and chopped
2 cloves garlic, peeled and minced
1 tsp dried ginger
4 cups chicken or vegetable stock
4 cups water
1 tsp fresh ginger, peeled and minced
8 tsp Bee Savvy Turmeric and Ginger Honey
1 orange, juiced
1 lemon, juiced 
Heat a large pot over medium heat until warm.  Add the coconut oil and melt to coat the bottom of the pan.
Add the chopped onions and salt and stir with a wooden spoon.  Allow mixture to cook for about 6 minutes until onions are very soft and translucent.  Continue to stir to prevent any burning.
Toss in the chopped carrots, sweet potato, and minced garlic and continue to cook another 10 minutes or so, until the carrots begin to soften.  If you notice that the vegetables are beginning to stick to the bottom of the pot, add a few tablespoons of water and turn down the heat slightly on the stove.
Once the carrots have slightly softened, add the stock and water and bring to a boil.  Once boiling, turn back down to a simmer and cook until all the vegetables are extremely soft, at least another 30 minutes.
Remove the soup from the heat and either puree in the pot with a hand immersion blender or process it in very small batches in a blender.  Do take special precaution and care when pureeing hot soups in a blender – the soup will expand due to steam and can result in a giant mess and possible burns so do not fill the blender to any more than 1/3 full or allow soup to completely cool before blending.
Puree until smooth and continue to stir in the final touches: fresh ginger, turmeric ginger honey, orange and lemon juice.  Add more salt as needed and garnish as your heart desires!
Garnish Ideas:
Root vegetable chips, cooked lentils, chopped cilantro, chopped pistachios, drizzled olive oil, or large flake finishing salt (such as Maldon)
Recipe created by the incredible Paula from The Alternate Root
Photography captured by the talented Courtney Kay Photography