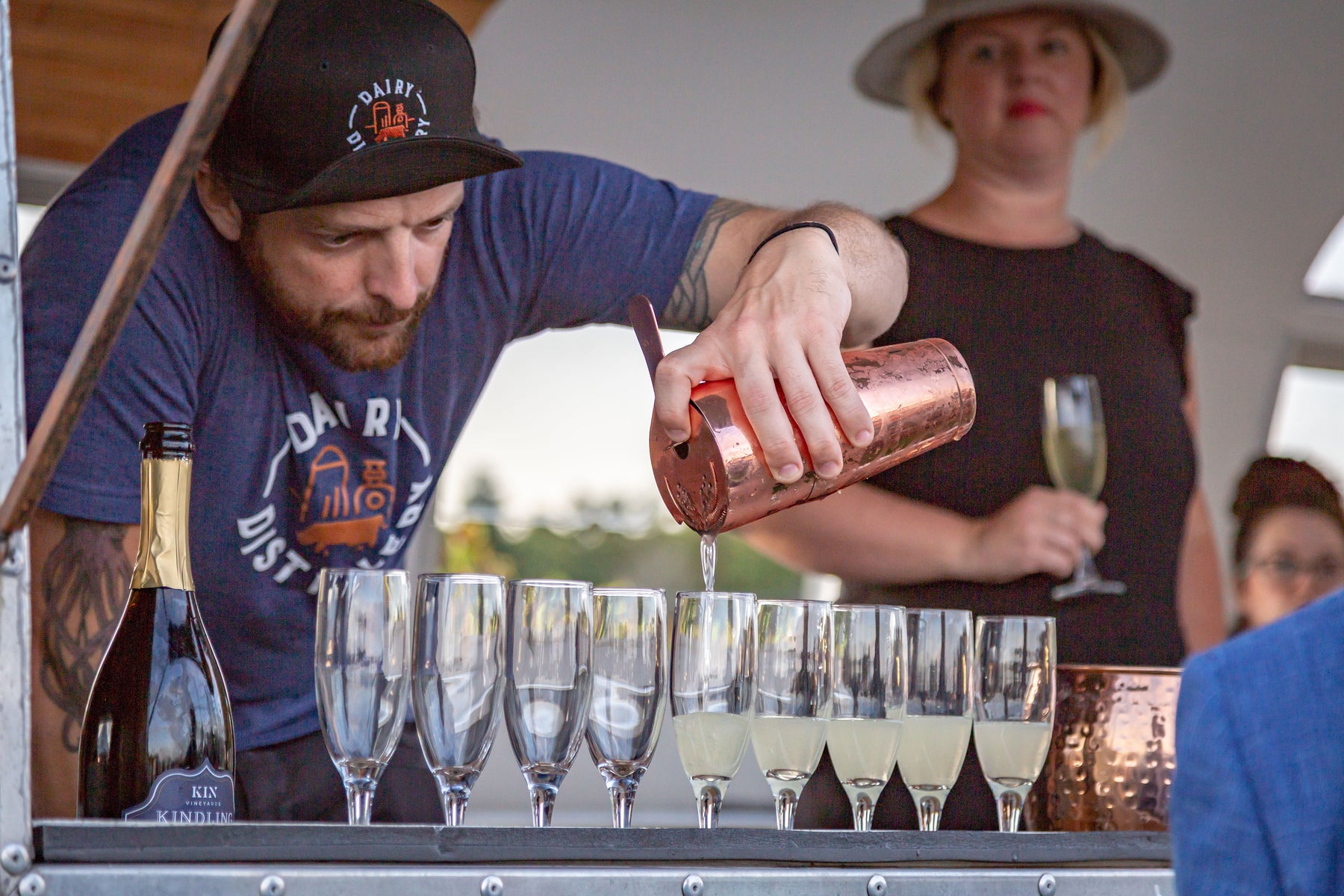 French 75 (with a Vodkow Twist)
KIN Vineyards opened their winery for us to host the sold-out Dine Among the Vines, Party Under the Stars event back in 2019 on a beautiful September evening. Small-scale producers throughout the Ottawa Valley came together to create a delicious seven-course meal for guests under the open tent, a farm-to-table style event.
Let us introduce you to Kasey and Jonny who created a custom cocktail for our Garden Party part of the evening.
Kasey, owner, operator, and bartender extraordinaire with Cellar82. She renovated this 1967 Airstream® trailer and turned it into a one-of-a-kind mobile bar. She wanted to offer a stylish alternative to the traditional catered bar, and we think she succeeded.
Enter Jonny, a Distiller for our favourite Vodka (or Vodkow) with Dairy Distillery.
Jonny's passion for cocktails and spirits lead down a rabbit hole driven to figure out how to create interesting flavours from common ingredients using classic techniques. The move from bartender to distiller was the next step in his creative exploration. We highly recommend visiting Jonny at Dairy Distillery for a tour and a sample of their incredible Vodkow.
Together Kasey and Jonny created their version of a French 75 combining all of the incredible local ingredients of honey, Vodkow and KIN Vineyard Sparkling Wine.  Guests sipped these cocktails while wandering the beautiful Vineyard in Carp, Ontario. Enjoy this cocktail during your next happy hour.
French 75 (with a Vodkow Twist)
1.5 oz Vodkow
0.5 oz Citrus Honey Simple Syrup (recipe below)
KINdling Sparkling Wine

Shake Vodkow and simple syrup with ice and strain into champagne glass. Top with Sparkling Wine.
Citrus Honey Simple Syrup
1 cup Bee Savvy Citrus Honey
1 cup Water
In a small saucepan, combine both the citrus honey and water over low heat. Use a whisk to slowly stir the honey until it has dissolved into the water. The color of the simple syrup when it's done will be a slightly lighter shade than the honey used. Store in the fridge for up to 2 weeks. Some bartenders will use a ratio of 2 to 1 or 3 to 1 honey to water to create a thicker version of the syrup.