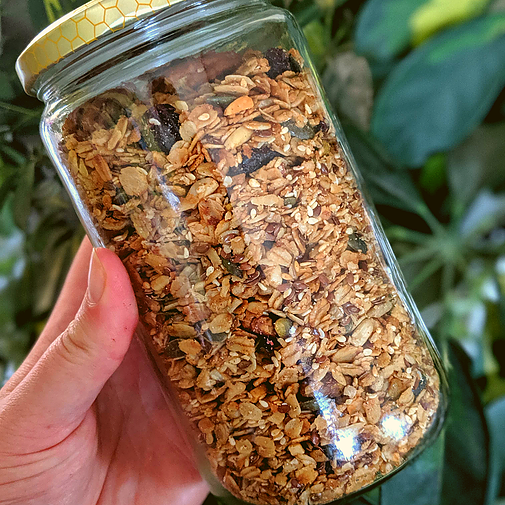 Classic Granola
We are totally obsessed and love when our customers send us recipes. Even more obsessed when our customers SEND us goodies? Talk about a win-win. Lisa Robertson, owner and maker of Rebel Soul Design Jewelry, mailed us fresh granola made with our raw honey. How sweet is that? When I asked for the recipe, she emailed it right away. I know what I will be making this weekend! As I may have consumed half of the bag already, talk about delicious. 
Preheat oven to 290 F 
In a large bowl, mix together:
6 cups large flake rolled oats
1 cup raw slivered almonds
1 cup raw pecan pieces
1/2 cup shelled, raw pistachios
1 cup shelled, raw sunflower seeds
1/2 cup shelled, raw pumpkin seeds (pepitas)
1/4 to 1/2 cup raw sesame seeds
1/4 to 1/2 cup raw flax seeds
1 to 2 tbsp ground cinnamon - depending on your taste
2 to 4 tsp ground nutmeg - depending your your taste
Add in the following, mixing well after each addition to coat the dry ingredients. 
1/2 to 3/4 cup avocado oil
2 tsp vanilla
3/4 to 1 cup of Bee Savvy Honey
Spread the granola into a large roasting pan or two 9x13 baking pans and bake for 1 hour, stirring and rotating the pans every 20 minutes. 
When done, remove the pans from the oven to cool. Stir the granola a few times while it is cooling, otherwise it will stick together and you have to chip it apart (messy). 
Once cooled, mix in 1 - 2 cups of whatever dried fruit you like.