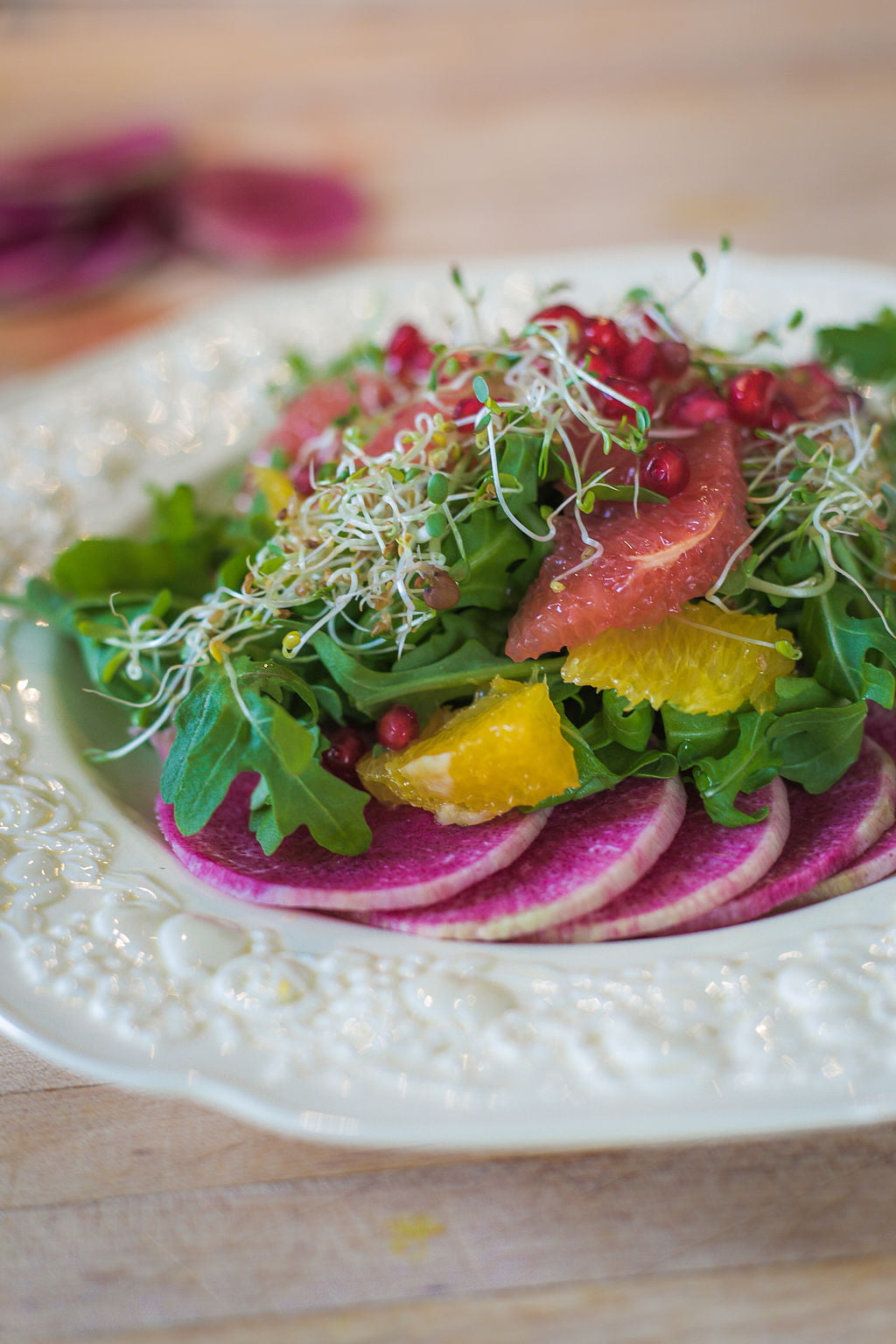 Honeyed Citrus Herb Dressing
Once again, Paula brings us a delicious recipe using our new Citrus Infused Honey.  
"Nothing brings people together like good food. My fondest memories growing up are those from my mother's kitchen. Since childhood I've been obsessed with food, so naturally I studied Culinary Management in Toronto."
Bring your friends and family together with both Bee Savvy Honey and the Alternate Root recipes with this fresh citrus dressing.
Honeyed Citrus Herb Dressing
Yield: 3 cups
3 Tbsp shallots, peeled and finely chopped
½ clove garlic, peeled and finely chopped
1/3 cup fresh mint, leaves removed from stem and roughly chopped
2 Tbsp cilantro leaves, washed and roughly chopped
1 lime, juiced and zested
¾ cup apple cider vinegar
2 tsp Dijon mustard
7 tsp Bee Savvy Citrus-Infused Honey
2 ½ cup olive oil
1 tsp sea salt In a tall, high-sided container (that similar to a 750 g yogurt container), place the shallots, garlic, herbs, lime zest and juice, apple cider vinegar, mustard, and honey.
With a hand immersion blender,  process the ingredients until smooth and there are no longer any visible chunks.
Slowly drizzle in the oil, in a constant, thin stream.  If the oil is begins to sit at the top of the dressing and is no longer incorporating easily, add a few tablespoons of warm water to thin it out.
Continue to drizzle in the remaining oil and the salt.
Keep the dressing in the fridge for 7-10 days.  It is obviously great on salads but is also amazing drizzled on cooked meats and steamed vegetables. 
Note:
If you do not have a hand immersion blender, use a whisk and large bowl for the emulsification process.  The method would remain the same except to switch adding the finely chopped herbs (as opposed to a rough chop) at the end of the recipe.  Oh, and definitely more elbow grease would be required!