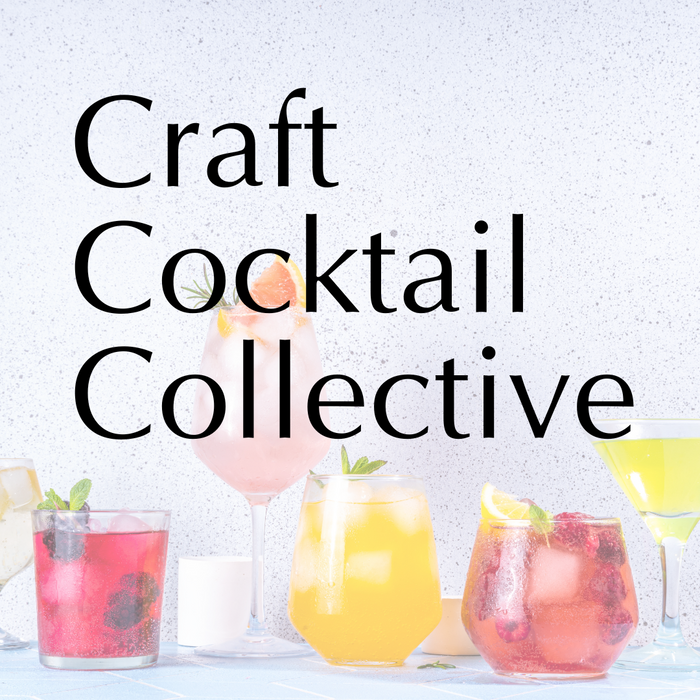 Craft Cocktail Collective - Summer Collection
Save

Liquid error (snippets/product-badge line 32): Computation results in '-Infinity'

%
Welcome to the Craft Cocktail Collective at Bee Savvy Fine Foods in the charming small town of Arnprior! Despite being nestled in a quaint setting, our cocktail club brings big city ideas and creativity to the world of mixology. Step into a welcoming and cozy atmosphere where cocktail enthusiasts and curious newcomers alike gather to indulge in a truly unique and interactive experience.
The heart of the Craft Cocktail Collective lies in its interactive element. Instead of traditional pre-made cocktails, we empower our guests to become their own bartenders. At each table, you'll find an assortment of cocktail add-ons, including a mix of salts, unique garnishes, and specially crafted simple syrups. Armed with a shaker and a selection of fresh fruits and herbs, you have the freedom to mix and match ingredients, creating your personalized concoctions. Making two unique and very different cocktails.
Not only will you have the opportunity to craft your own cocktails, but you'll also have the chance to share your masterpieces with others. Guests are encouraged to let their fellow club members try their creations —fostering a sense of camaraderie and exploration as you swap tips and tricks with fellow enthusiasts.
Whether you're a seasoned mixologist or just beginning your journey into the world of cocktails, the Craft Cocktail Collective at Bee Savvy Fine Foods promises an unforgettable experience. Unleash your creativity, savor your unique creations, and let the spirit of community and exploration guide you through a delightful and flavorsome evening. Join us as we raise our glasses to the wonderful amalgamation of classic cocktail culture and small-town charm! Cheers!
Bubbles & Bliss, Thursday August 17 $25
6:00pm - 7:00pm
7:30pm - 8:30pm
Under the guidance of our cocktail artisan, you'll learn the art of infusing prosecco, cava or sparkling wine with a variety of premium liqueurs, fresh fruits, and aromatic herbs. Discover some tricks while you make mistakes, creating bubbly fusions that exude elegance and joy.
Botanical Libations, Thursday August 24 $25
6:00pm - 7:00pm
7:30pm - 8:30pm
Embark on a journey through the captivating world of gin and its exquisite botanical blends. Immerse yourself in a night of botanical exploration, camaraderie, and delightful sips that celebrate the beauty of gin and its herbal elixirs.
Agave Adventures, Thursday August 31 $25
6:00pm - 7:00pm
7:30pm - 8:30pm
Let's work together to learn more about balancing flavors, creating innovative twists on classic tequila cocktails, and garnishing with flair.
Summer Collection $60
6:00pm - 7:00pm
7:30pm - 8:30pm
Indulge in a trio of unforgettable cocktail experiences with our "Summer Cocktail Bundle" You'll gain access to all three captivating classes, each offering a unique and immersive journey into the world of mixology and save some money.